Hi Q-MHI Africa readers!
BIGGER BETS
As the numbers for 2016 come trickling in it's becoming increasingly clear while the talk of Africa rising (or not) and commodity downturns was carrying on last year, investors, operators and entrepreneurs in Africa kept their heads down and got on with business.
A good case is made by private equity players who invested $3.8 billion in 145 deals across Africa last year with a range of businesses from agriculture and energy to healthcare and financial sectors. That was up more than 50% from $2.5 billion in 2015, according to data from the African Private Equity and Venture Capital Association.
A relatively small number of large transactions in energy and utilities led the overall increase. And it's worth noting, however, that last year's $3.8 billion is still less than half of the 2014's $8.1 billion, the highest investment year in recent data.
While the numbers in Africa pale in comparison with US private equity investments, they are still significant in most economies on the continent. Private equity investors tend to focus on more mature businesses and larger projects, and many of such investors in Africa are looking at deals of $50 million and above. In 2016, transactions at $250 million and above accounted for a majority of the total deal value.
So the investments went well in 2016, but it is likely such big deals had been in the works for a while. This means there was probably a lag from 2016's economic worries. You could make a case for investors' overriding economic concerns by noting the nearly 50% drop in fundraising for new African investment funds to $2.3 billion in 2016 versus $4.3 billion in 2015. This could mean fewer or smaller deals in 2017/18, but that remains to be seen.
West Africa has led the way as an investment favorite since 2011 with the highest share of private equity deals and share of deal value (27% for both). That region includes Nigeria, the continent's largest economy, so that helps. But it also includes the sub-region Francophone West Africa's Côte d'Ivoire and Senegal, which as think tank Brookings Institution notes are among the most promising investment opportunities.
Africa's most advanced economy, South Africa, has been home to 22% of the deals with 13% of value since 2011, while the region East Africa has had 18% of the deals and 8% of the value. North Africa has had 14% of deal numbers and 13% of value.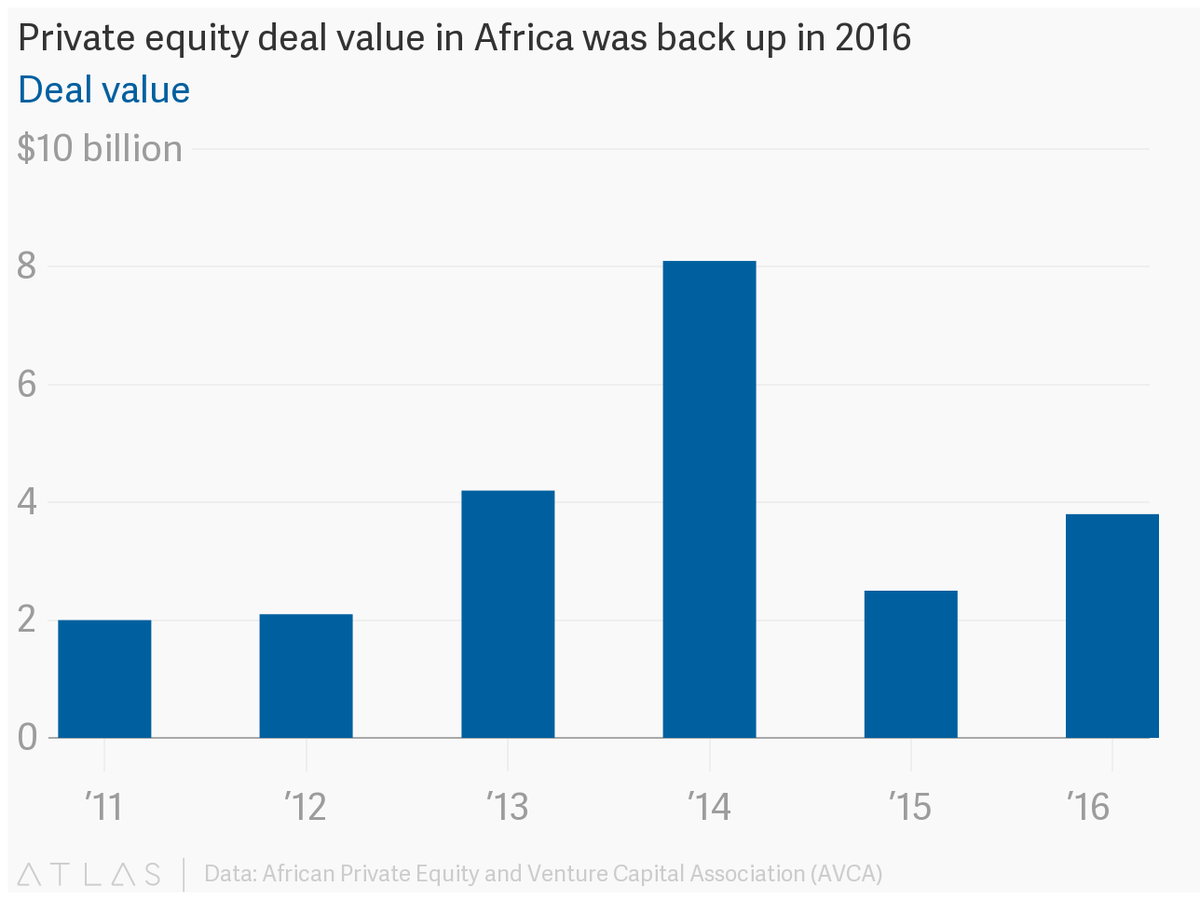 Perhaps the most potential for investors remains in the large Central Africa region where only 5% of deals have been done since 2011 and only account for 1% of deal value in that period. It includes the Central African Economic and Monetary Union (CEMAC) countries and DR Congo, so could be the next Francophone region to watch.
Yinka Adegoke, Q-MHI Africa editor
STORIES FROM THIS WEEK
Uganda's youth are addicted to to soccer gambling. The rise of the English Premier League , the expansion of satellite TV and the creation of a national lottery lured many young Ugandans, with few job prospects, into betting millions of dollars annually. But the rise in illegal operators is forcing the government to consider regulating this addiction, finds Chris Matthews.
The low-tech, African-made cooling units that couldrevolutionize food storage. While more than 20 million people are facing starvation in Africa now, half of all the staple food in the continent is lost during the post-harvest stage. Investing and scaling these innovative cooling units could reduce spoilage, save billions of dollars, and feed millions, writes Abdi Latif Dahir.
Innovation, not trade, is the future for Africa's growth. Global trade has induced African economic diversification and growth. But the solution to transitioning from poverty to prosperity lies in nurturing and marketing innovation, argues Efosa Ojomo.
Cape Town and Johannesburg battle to be South Africa's No.1 tech hub. Cape Town has long been considered South Africa's tech capital. But as Lynsey Chutel reports, new data shows that experienced software developers are moving to Johannesburg to make more money.
Time to polish your French if you are a private equity investor in Africa. Emerging market investors have historically focused on Anglophone African countries like Kenya, Tanzania and South Africa. But linguistic biases in the current investment environment shouldn't turn portfolio managers from getting into thriving, French-speaking markets like Côte d'Ivoire.
Lagos' grandiose new island city has a fatal design flaw. Eko Atlantic is the multibillion-dollar grandiose project to create a new economic capital for Nigeria off the coast of Lagos. Mimi Onuoha finds the project could end up leaving the island city even more vulnerable to rising sea levels.
CHART OF THE WEEK
The fastest mobile internet connections in Africa. In many countries across the world, smartphone users spent more time connected to Wi-Fi than to mobile networks. But across Africa, users usually connect through mobile networks, the fastest of which are slower than 10 megabits per second.
OTHER THINGS WE LIKED
Mapping African art in a 54-volume encyclopedia. Nana Oforiatta-Ayim, a Ghanaian art historian is documenting art and culture in every African country for an open source online encyclopedia. The aim, writes Ginanne Brownell Mitic in the New York Times, is to help alleviate the frustration of African cultural producers concerned about the forgotten rich history of the continent.
Are South Africans really lazy or is this lazy research? After another spate of xenophobic attacks, a new report on immigration suggests that South Africans just don't work as hard as African migrants. But the report reveals more of the think tank's biases than useful data, writes Simon Allison for the Daily Maverick.
KEEP AN EYE ON
Geeks on a Plane—Africa Tour (Mar. 20-Apr. 2). 500 Startups, the Silicon Valley-based venture capital firm, will kick off its Geeks on a Plane tour to four African cities in three different countries. The invite-only tour takes startups, investors and executives to learn about local tech ecosystems and market opportunities.
Kenya's treasury to present budget (Mar. 23). Kenya's finance minister will present the budget for fiscal year 2017/18 in parliament on Thursday (Mar. 23). The budget presentation comes earlier than its usual June timeline because the country is headed for elections on Aug. 8.
Tunis International Book Fair (Mar. 24-Apr. 2). With Lebanon as the guest honor, the 33rd edition of the annual Tunis International Book fair will take place in the capital, Tunis.
Q-MHI