10 things you need to know today !
1. Trump says he 'didn't know' about son's meeting with Russian lawyer
President Trump told Reuters Wednesday that he "didn't know until a couple of days ago" that his eldest son, Donald Trump Jr., had met with a Russian lawyer in June 2016, during the presidential campaign. Trump said he did not fault his son for meeting with the lawyer, Natalia Veselnitskaya, saying his son made the decision in the heat of a non-traditional campaign. "I think many people would have held the meeting," the president said. Trump Jr.'s emails indicated that he readily accepted the invitation to talk with Veselnitskaya after he was told she might have damaging information on Hillary Clinton, then Trump's Democratic opponent, that came from Moscow's effort to help Trump beat Clinton.

Source: Reuters
2. Senate GOP leaders to unveil health plan
Want fewer regulations
Said his amendment would lower premiums and give consumers freedom "without the government mandates."
Wrote an op-ed calling for the loosening of regulations and mandates.
Backs Mr. Cruz's amendment, saying that consumers would have less-expensive options.
Said that "you have to repeal the regulations if you want to bring down prices for people."
Emphasize keeping protections
 
Shelley Moore Capito
W.Va.
Said Mr. Cruz's amendment "would make it too difficult for people with pre-existing conditions to get coverage."
Said in May that any bill needs to pass the "Jimmy Kimmel test," meaning that "a child born with congenital heart disease be able to get everything she or he would need in that first year of life."
Said Mr. Cruz's amendment "would erode protections for people with pre-existing conditions."
Said he would object to Mr. Cruz's amendment if it "has the effect of annihilating the pre-existing condition requirement" in the existing bill.
Said the bill does not do enough to "protect Nevadans with pre-existing conditions."
Senate Republicans plan to unveil their newly revised health bill on Thursday, with opposition from both GOP moderates and conservatives threatening to prevent supporters from mustering the 50 votes needed to pass it. With just 52 Republicans in the Senate, the GOP can only afford to lose two votes. Sen. Rand Paul (R-Ky.) has said he won't approve the latest version as written because it preserves too much of ObamaCare, and Sen. Susan Collins (R-Maine.) says the problem is that the bill would cut too much. President Trump said he would be "very angry" if Senate Republicans failed to get the bill passed, because the GOP has promised for years to repeal and replace the Affordable Care Act. "I am sitting in the Oval Office with a pen in hand, waiting for our senators to give it to me," Trump said. "It has to get passed. They have to do it. They have to get together and get it done."

Source: The New York Times, The Washington Post
3. Trump's nominee for FBI director vows independence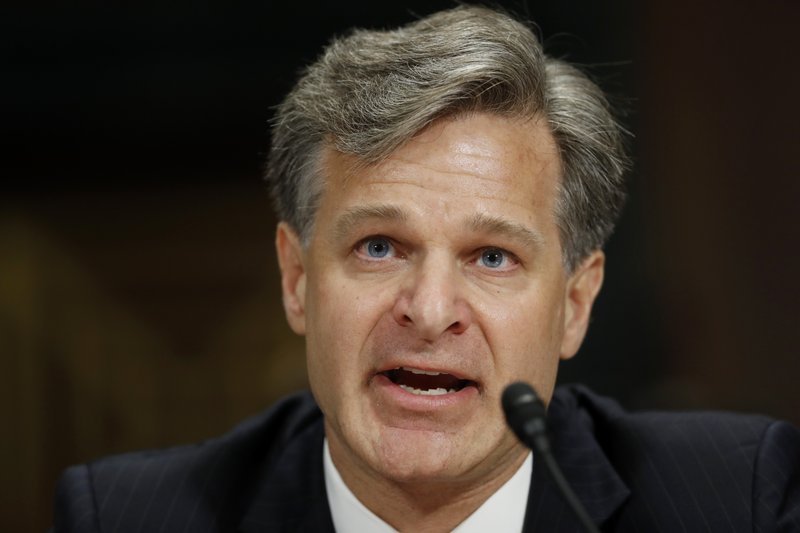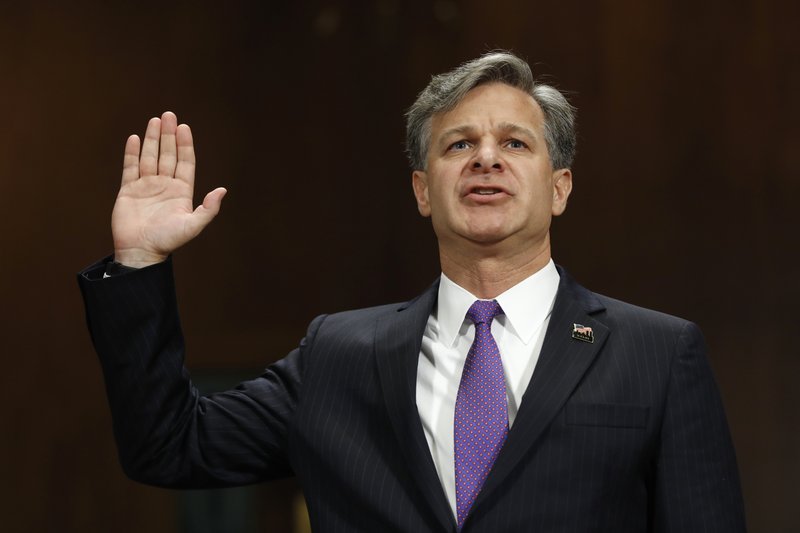 Chris Wray, whom President Trump nominated to be the new FBI director, drew a clear line between his views and Trump's on several key issues during his Senate confirmation hearing on Wednesday. Wray rejected the suggestion that the investigation into Russian election meddling and possible collusion by Trump associates was a "witch hunt," a claim Trump has made repeatedly. Wray, a former high-ranking Justice Department official, vowed never to let politics sway his decisions, and said he "sure as heck" would never give Trump a pledge of loyalty. "My loyalty is to the Constitution and the rule of law," Wray said. "Those have been my guideposts throughout my career, and I will continue to adhere to them no matter the test."

Source: The Associated Press
4. Trump arrives in Paris for talks with Macron
President Trump, facing fallout at home over his son's meeting last year with a Russian lawyer promising dirt on Hillary Clinton, arrived in Paris early Thursday for meetings with French President Emmanuel Macron aiming to improve relations between the U.S. and France. The two leaders will discuss security and counterterrorism issues, including the Syrian civil war. Macron and Trump will have to get past their differences — Trump expressed support for Macron's opponent, Marine Le Pen, in France's election, and Macron has been a vocal critic of Trump's decision to pull America out of the Paris climate agreement. During the trip, Trump also will serve as guest of honor at Friday's Bastille Day parade. One French official says Macron wants to "bring Trump back into the circle so that the United States, which remains the world's number one power, is not excluded."

Source: Reuters, CNN
5. Former Brazil President Lula da Silva sentenced to 9 years for corruption
A Brazilian judge on Wednesday found former President Luiz Inacio Lula da Silva guilty on corruption and money laundering charges, and sentenced him to nine and a half years in prison. Lula was found guilty of accepting $1.1 million in improvements and expenses for a beachfront apartment from a construction company, which received lucrative contracts from the state-controlled oil company Petrobras in exchange. Da Silva has called the accusations a "farce," but the conviction has severely damaged the reputation the charismatic leader built raising his South American nation's international profile while serving as president from 2003 to 2010. "This goes far beyond himself and his political career, which is seriously damaged. It's Brazil's reputation," said Christopher Sabatini, executive director of Global Americans, a research group in New York. "He was a brand. Brand Brazil."

Source: The New York Times
6. Dow surges to record after Yellen remarks
The Dow Jones Industrial Average surged to a record close on Wednesday, after Federal Reserve Chairwoman Janet Yellen gave an upbeat view of the state of the economy in congressional testimony. U.S. stock futures edged higher early Thursday, pointing to further gains at the open. Yellen indicated that the Fed could continue gradually raising interest rates and start unwinding the massive bond and mortgage-backed securities holdings it accumulated to boost the economy. The news pleased investors and analysts who were concerned that the Fed might change course due to the recent dip in inflation, which had been approaching the Fed's 2 percent target rate. "People were worried about her coming out more hawkish. She said exactly what the market expected and that's why the market was happy with it," said Chris Zaccarelli, chief investment officer at Cornerstone Financial Partners in North Carolina.

Source: Reuters, MarketWatch
7. Russian court sentences killer of Putin critic to 20 years
A Russian court on Thursday sentenced Zaur Dadayev, a former soldier in Chechnya, to 20 years in prison for the 2015 murder of opposition leader Boris Nemtsov, one of President Vladimir Putin's most outspoken critics. Four other men convicted as accomplices received terms between 11 and 19 years. Prosecutors said Dadayev was the one who pulled the trigger. Nemtsov, 55, was shot as he walked over a bridge near the Kremlin with his girlfriend. He had been working on a report on Russia's involvement in Ukraine's conflict. "The shortcoming of this sentencing is that those who ordered and organized this crime are not in the dock," said Vadim Prokhorov, a lawyer for Nemtsov's daughter Zhanna.

Source: Reuters
8. Democrat files articles of impeachment against Trump
Rep. Brad Sherman (D-Calif.) on Wednesday filed articles of impeachment against President Trump, clashing with leaders of both parties. Democrats have sought to discourage talk of impeachment to avoid distracting from their efforts on the economy, health care, and investigations into Russia's alleged election meddling and possible collusion with Trump associates. The GOP-controlled House is not expected to take Sherman's effort, which was co-sponsored by just one other Democrat, very seriously. Sherman accuses Trump of trying to obstruct justice by firing former FBI Director James Comey, allegedly in an attempt to impede the Russia investigation, and says his call for Judiciary Committee hearings is "the first step on a very long road."

Source: Los Angeles Times
9. Massive iceberg breaks away from Antarctic ice shelf
An iceberg larger than the state of Delaware broke away from the Antarctic Peninsula on Wednesday. The trillion-ton mass of ice is one of the largest on record, covering 2,240 square miles, compared to Delaware's 1,954 square miles. Scientists at the British research team Project Midas confirmed the break using data from NASA satellites, saying they had been monitoring a rift in the Larsen C ice shelf for years before it began growing quickly in January. It is normal for ice shelves to accumulate ice from snowfall and shed it through melting and the breaking or calving of ice bergs, but the massive Larsen C break is so big, reducing Larsen C by 12 percent, that it has raised fears that it could destabilize the remainder of the shelf. "As climate warming advances farther south, it will affect larger and larger ice shelves that currently hold back bigger and bigger glaciers, so their collapse will contribute more to sea level rise," said Eric Rignot, a UC Irvine glaciologist and research scientist at NASA's Jet Propulsion Laboratory.

Source: Los Angeles Times, NPR
10. U.S. grants visas to let Afghan girls enter U.S. for robotics contest
The Homeland Security Department has approved a request for visas to allow six Afghan teenage girls and their chaperone to participate in an international robotics competition in Washington, after their applications were denied twice. The earlier denials had sparked criticism over the Trump administration's treatment of Muslims trying to enter the U.S., and accusations that the U.S. was pulling back from efforts to support young women in Afghanistan, where they have limited educational opportunities. Politico reported Wednesday that President Trump personally intervened, asking the National Security Council to address the matter. Ivanka Trump, the president's daughter, tweeted her support and said she looked forward to welcoming "this brilliant team of Afghan girls" to Washington next week.

Source: The Washington Post, Politico

The Week MHI